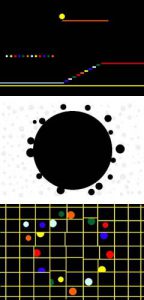 (April 2000, 6 min.)
The work entitled "Common Tragedies in urban life" features several background compositions of electronic sounds and video animation images. The electronic sounds mainly consist of various types of embodied and modified sounds. The animation images show abstract and geometrical patterns in most of the scenes.
Common Tragedies in urban life is one of the "Audio-visual poem series" . In this series, both the sounds and images are important factors. When an Audio-visual poem is produced, starting from the first stage of production, an attempt is made to produce the poem while considering the harmonious relations between sound and image.
The image portrays various events in city life and the people who experience sorrow because of these events from an abstract viewpoint. The compositions are used as a background to make the images concrete and meaningful, even though the images are abstract.